Please be aware that prices may change at any time. Always verify the price before downloading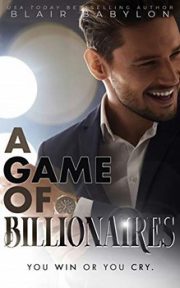 A Game of Billionaires
by Blair Babylon
FREEBIE
Steamy Romance
Rating: 4.4
FML. I will never believe anything a man tells me, ever again. Even if he is a 6-feet-4, hot, ripped, handsome as a movie star, filthy rich billionaire. I was a good girl with nothing left to lose, literally. My ex-boyfriend had stolen everything except a non-refundable plane ticket to Paris, so I got on the plane without him. After that, it was understandable that when I started drinking, things got a little out of hand.
Luckily, a man intervened. He was so ripped that I could see every thick muscle of his abs, obliques, chest, and arms through the tight tee shirt he was wearing. He towered over the guys who were bothering me, and they backed off. I took him back to my hotel because I was full of drunken, bad decisions that night. The last thing I needed was a man who wanted to save me when I was trying to do all the wrong things. Check out Blair Babylon's Billionaires in Disguise: Maxence series! #ad
---
How To Conquer Clutter And Organize Your Home
by Puja Shah
FREEBIE
Crafts & Hobbies
Rating: 4.1
Kick your clutter to the curb with this easy-to-follow guide by clearing out the unwanted stuff in your house… and freeing up space to enjoy what you have.
How to Conquer Clutter and Organize Your Home takes you room-by-room through your home with simple and encouraging instructions on how to organize your: Living Room, Master Bedroom, Dining Room, Bathrooms, Laundry Room, Linen Closet, Office, Garage, And much more! #ad
---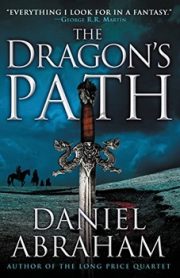 The Dragon's Path
by Daniel Abraham
BARGAIN
Fantasy
Rating: 4.1
Marcus' hero days are behind him. He knows too well that even the smallest war still means somebody's death. When his men are impressed into a doomed army, staying out of a battle he wants no part of requires some unorthodox steps.
Cithrin is an orphan, ward of a banking house. Her job is to smuggle a nation's wealth across a war zone, hiding the gold from both sides. She knows the secret life of commerce like a second language, but the strategies of trade will not defend her from swords. #ad
---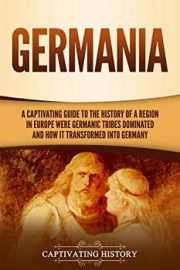 Germania
by Captivating History
BARGAIN
History
Rating: 4.6
Germany is a relatively young nation-state. United in 1871, it's even younger than the United States. However, the territories inhabited by the Germanic people have a rich history that reaches far back in prehistory and antiquity.
Located in the heart of Europe, Germany witnessed centuries of conflicts, immigration, and negotiations. Consequently, its shape, size, and ethnicity changed throughout history. The territories which constitute Germany today were often war zones, and at times they would join forces against a common enemy or break apart due to internal conflicts… #ad
---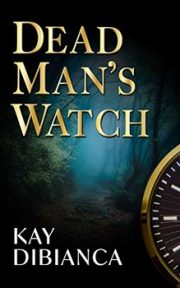 Dead Man's Watch
by Kay DiBianca
BARGAIN
Christian Mystery
Rating: 4.7
Half-sisters Kathryn Frasier and Cece Goldman stumble into another mystery in this second book in the Watch series. When a former acquaintance of Kathryn's is accused of murder, she and Cece go on a mission to prove his innocence by finding the real killer. But things are never what they seem in this tangled web, and Kathryn's spunky determination to solve the mystery pushes her closer and closer to a deadly climax.
Join the adventure as these two young women commit themselves to live up to the quote from the Jerusalem Talmud: "Whoever saves a life, it is considered as if he saved an entire world." Check out Kay DiBianca's The Watch Series! #ad
---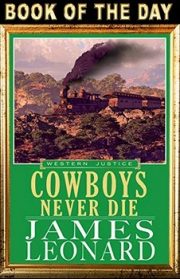 Cowboys Never Die
by James Leonard
BARGAIN
Western Romance
Rating: New Release
From the day Max Cotton is sworn in as sheriff, trouble follows him. Outlaws in Tucson think they can come and go as they please, but Max is about to set them straight. Too bad his new deputy is still learning how to fight. When Charlotte Warner shows up, things only get worse. She's a good girl who fell in with the wrong crowd. Unfortunately for Max, the wrong crowd consists of outlaw Joe Fanning–the most wanted man in the south.
Charlotte got away from Joe once, but never again. He means to make her pay for her actions, even if he has to destroy Max and the entire town of Tucson to do it. But this isn't Max's first gunfight. He's done battle with men like Joe before, though none quite so evil. Armed with his trusty pistol and an untrained deputy, Max takes on Joe's entire gang. Can Max save his town and destroy evil without being destroyed himself? #ad
---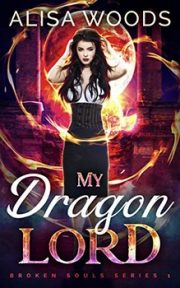 My Dragon Lord
by Alisa Woods
FREEBIE
Paranormal Romance
Rating: 4.3
I really messed this up. Pinned to the floor by a billionaire playboy, caught stealing files from his computer. I'm just here to find my sister–I suspect he and his band of playboys have trafficked her and who knows how many others. I'm here for them too. Eventually.
But now I'm shackled to the wall in his dungeon–a literal dungeon in a literal castle tucked in one of the Thousand Islands at the border of Canada. I really messed this up. Ember's a hot-shot reporter. Niko's the sexy Lord of the Lair determined to find his soul mate… and he'll do whatever it takes to save his people from extinction… Check out Alisa Woods' Broken Souls series! #ad
---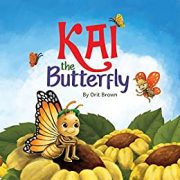 KAI the Butterfly
by Orit Brown
NO LONGER FREE
Children's Fiction
Rating: 4.9
"The sun rose, morning came. Kai the butterfly flapped his wings to fly, and soared high and breezy through the sky." Kai the Butterfly teaches children the importance of preserving the environment and taking care of urban nature. In it, children will learn about the pollination of flowers and how vital butterflies are in this process – actively protecting nature.
This is Orit Brown Agami's second book. She is a journalist and author of children's books, as well as a mother to three sons. Her books serve to promote care of the environment. Enjoy! #ad
---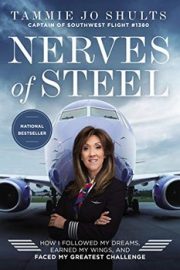 Nerves of Steel
by Captain Tammie Jo Shults
BARGAIN
Biography & Memoir
Rating: 4.8
Nerves of Steel is the captivating true story of Tammie Jo Shults's remarkable life–from growing up the daughter of a humble rancher, to breaking through gender barriers as one of the Navy's first female F/A-18 Hornet pilots, to safely landing the severely crippled Southwest Airlines Flight 1380 and helping save the lives of 148 people.
Drawing deeply from her well of experience, Tammie Jo was able to wrestle the severely damaged 737 safely to the ground. Not originally scheduled for that flight, there is no doubt God had prepared her and placed her right where she needed to be that day. #ad
---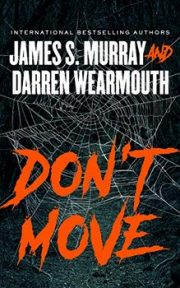 Don't Move Kindle Edition
by James S. Murray & Darren Wearmouth
BARGAIN
Horror
Rating: 4.6
Megan Forrester has barely survived the unthinkable. Six months ago, she witnessed a horrific accident that killed her husband and son, and lives with the guilt of knowing she could have done more to save them.
Now, Megan hopes to mend the pieces of her broken spirit by attending a local church group's annual camping trip. But the church group members–riddled with dark secrets of their own–make a catastrophic navigational mistake, leaving them stranded in an untouched canyon in the West Virginian national forest. #ad
---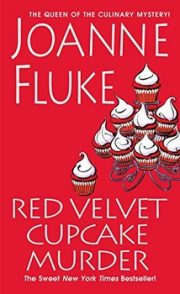 Red Velvet Cupcake Murder
by Joanne Fluke
BARGAIN
Cozy Mystery
Rating: 4.5
This summer has been warmer than usual in Lake Eden, Minnesota, and Hannah Swensen is trying to beat the heat both in and out of her bakery kitchen. But she's about to find out the hard way that nothing cools off a hot day like a cold-blooded murder.
At the grand opening of a local hotel, a police department employee nearly dies falling from a penthouse–and then another woman, with whom Hannah has a less-than-friendly relationship, winds up dead. Hannah is the prime suspect–and to clear her own name, she's got to find out who iced the victim… #ad
---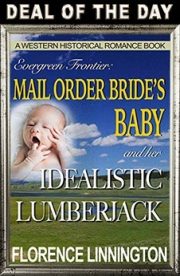 Mail Order Bride's Baby And Her Idealistic Lumberjack
by Florence Linnington
BARGAIN
Historical Romance
Rating: 4.6
Given away as a young woman to a cruel husband who died, leaving her to care and provide for an infant by herself, Anna Rockwell believes she has no other means of survival than to marry yet another stranger out west. When she meets Samuel Huwa, however, Anna's life of heartbreak and fear is not over, yet.
Samuel, a lumberjack with a heart of gold, lives with his younger sister and takes on Anna as his mail order bride. Samuel loves babies, and dedicates himself to helping Anna find joy again, falling in love with the complicated, mysterious woman in the process. When tragedy strikes, Samuel is forced to leave his new family in order to provide for them. Heartbroken, Anna realizes that she must discover a strength of her own in order to bring her husband home and repair their broken family. The question is, does she have the courage to do it? Check out Florence Linnington's Evergreen Frontier series! #ad
---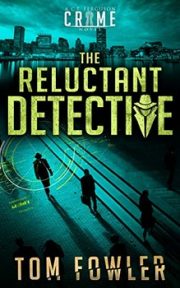 The Reluctant Detective
by Tom Fowler
FREEBIE
Mystery/Thriller
Rating: 4.3
C.T. Ferguson spent years as a hacker. He lived in Hong Kong, working against the Chinese government. Then they found him, threw him in jail, and eventually kicked him out. In Baltimore, C.T. sets himself up as a private investigator. Then Alice walks in.
She's sure her husband is cheating on her. C.T. looks into it but isn't convinced. He soon discovers Alice has serious problems of her own. When Alice's troubles get even worse, C.T. finds his own life in danger. With a liar for a client and enforcers hounding him, can C.T. prevent his first case from becoming his last? #ad
---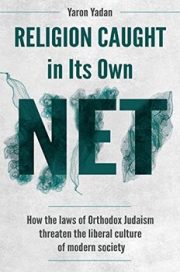 Religion Caught in Its Own Net
by Yaron Yadan
NO LONGER FREE
Non-Fiction
Rating: 4.6
In the modern era, when equality, freedom, and happiness are man's most important values, the harsh contrast with the ancient world of strict religious laws of Judaism, formed 1,500 years ago, is undeniable.
This book is a must read for anyone who wishes to understand the religious concepts that presently control the lives of Orthodox Jews, and in some ways, the lives of secular Jews as well. Whether they respect religion, hate or fear it, secular Jews are often unaware that the problem is rooted in the religious worldview as such, and not in the character or habits of the people who live it… #ad
---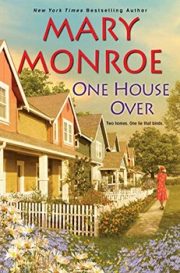 One House Over
by Mary Monroe
BARGAIN
Historical Fiction
Rating: 4.5
"Monroe reveals sympathetic aspects and complex motivations for each character in this engrossing setting." -Booklist
A solid marriage, a thriving business, and the esteem of their close-knit Alabama community–Joyce and Odell Watson have every reason to count their blessings. Their marriage has given well-off Joyce a chance at the family she's always wanted–and granted Odell a shot to escape grinding poverty. But all that respectability and status comes at a cost. Just once, Joyce and Odell want to taste life's wild side, without consequences… #ad
---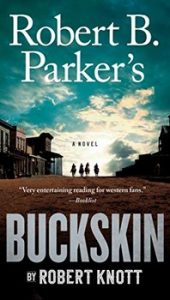 Robert B. Parker's Buckskin
by Robert Knott
BARGAIN
Mystery/Thriller
Rating: 4.3
When gold is discovered in the foothills just outside of Appaloosa, it sets off a fight between two shrewd local business operations as their hired gun hands square off over the claim. First a young miner disappears, then another. And then one of the businessmen himself is killed, right on his front doorstep.
Meanwhile, as Cole and Hitch try to put a stop to the escalating violence, another killer is making his way toward town in pursuit of a long-lost dream, and a mission of vengeance. Cole and Hitch will have their work cut out for them to keep the peace, especially when all these ruffians converge at the huge Appaloosa Days festival, where hundreds of innocent souls might get caught in the crossfire… #ad
---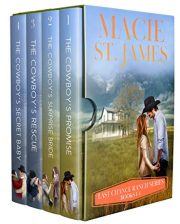 Last Chance Ranch Complete Collection
by Macie St. James
BARGAIN
Western Romance
Rating: 4.6
You'll get four full-length novels, each featuring a Briscoe brother, feel-good clean romance, and a beautiful Montana mountain setting in this contemporary western boxed set. Four brothers, one ranch. Can they save it in time? This set includes: The Cowboy's Promise, The Cowboy's Surprise Bride, The Cowboy's Rescue, The Cowboy's Secret Baby.
"Last Chance Ranch Complete Collection by Macie St. James a set of stories that you couldn't put it down. The Briscoe brothers stories filled with family values and their pain, that hardless in life, happiness to keep their ranch to survive and afloat. a great and sweet stories that will warm your heart. well done!" -Amazon Customer #ad
---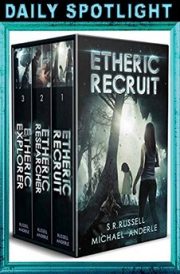 Etheric Adventures Boxed Set: Books 1-3
by S.R. Russell & Michael Anderle
BARGAIN
Science Fiction
Rating: New Release
Get the first three books in this best-selling series at a discounted price with this boxed set. When you are a young adult in the Etheric Empire, your life can be changed in mere moments. Often for the better. Anne was saved by the Queen herself many years before on planet Earth. Now, she is struggling with focus, and coming into adulthood while her mom struggles with her own future.
When Anne's mother makes an ultimatum, the Empress steps in, and Anne's life is saved by her young friend, with four paws. Now, Anne must grow up with her partner, and fast. Her new friends are going to need her in the future. Together, the young woman and her partner, Jinx, have a future to affect… #ad