Please be aware that prices may change at any time. Always verify the price before downloading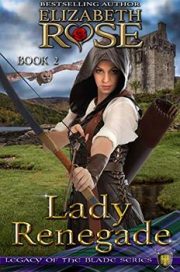 Lady Renegade
by Elizabeth Rose
FREEBIE
Historical Romance
Rating: 4.4
When he agreed to hunt down a renegade, he didn't know it was a woman!
The Highlander: After a disagreement concerning a battle, Storm MacKeefe is disowned by his father, the chieftain of the clan. Now he roams the countryside as a loner, earning his living through accepting wagers and competitions instead of hiring out his sword. But when he is tricked into hunting down and returning an English renegade, he discovers the renegade is a blind woman who leads an army of all females… #ad
Check out Elizabeth Rose's Legacy of the Blade Series!
---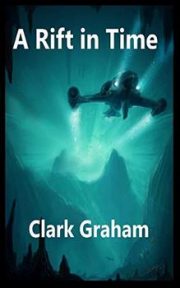 A Rift in Time
by Clark Graham
FREEBIE
Science Fiction
Rating: 4.0
"What is that sound?" Mary shook Adalwolf Dalton awake.
No sooner had she asked than a light from the outside of the house illuminated the bedroom. Dalton stood up and grabbed his pistol from the drawer. "It's bad news. It's the time machine."
Senator James has sent the time machine back to rescue Adalwolf Dalton, only, he doesn't want to be rescued. Now, he must figure out how to stop them from building the time machine in the future so they won't irreparably damage the timeline and destroy all their lives… #ad
Check out Clark Graham's Time Loop series!
---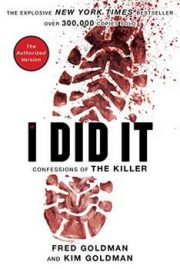 If I Did It: Confessions of the Killer
by The Goldman Family
BARGAIN
True Crime Biography
Rating: 4.3
Originally written by O.J. Simpson, this edition includes essays by the Goldmans and a member of the Goldman family legal team that reveal the fascinating story behind the bankruptcy case, the book's publication and the looming court proceedings, that would eventually lead to his conviction.
The Goldman family views the book as his confession, and has worked hard to ensure that the public will read this book and learn the truth. This is O.J. Simpson's original manuscript, approved by him… #ad
---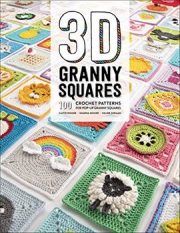 3D Granny Squares
by Caitie Moore, Sharna Moore, Celine Semaan
BARGAIN
Crafts & Hobbies
Rating: 4.7
A creative new take on an old favorite–including delightful patterns for special occasions and gifts.
The humble granny square gets a fresh new look in this collection of 3D granny square crochet patterns. Choose your favorite from one hundred different designs including flowers, animals, food and drink, and motifs, whether it's a fragrant rose, a cherry pie, or a jellyfish. Each motif features a 3D element that is integral to the granny square design. #ad
---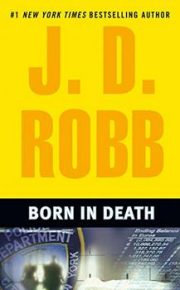 Born in Death
by J. D. Robb
BARGAIN
Mystery/Thriller
Rating: 4.8
Just as Eve Dallas begins to investigate the grisly double homicide of two young lovers–both employees of the same prestigious accounting firm–her friend Mavis need a favor. One of the moms-to-be in Mavis's birthing class has gone missing. Normally, such a case would be turned over to Missing Persons. But Mavis wants no one else on the job–and Eve can't say no.
Now Eve's trying to track down the missing woman, while simultaneously unearthing the deals and double-crosses hidden in the files of some of the city's richest and most secretive citizens, in a race against this particularly vicious killer. #ad
---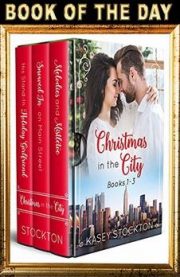 Christmas in the City Collection
by Kasey Stockton
BARGAIN
Clean Contemporary Romance
Rating: 4.6
Three different cities, three holiday romances, everyone finds love.
Book One: His Stand-In Holiday Girlfriend – He's the head of design. She's the intern nobody knows. Their goal: convince his ex that they're in love.
Book Two: Snowed In on Main Street – She's trying to manage a hotel; he's trying to manage his fans. They are both snowed in with an ex.
Book Three: Melodies and Mistletoe – She dreams of becoming a famous musician, and he has the ability to make her dreams come true.
CLICK above to read each book's full description! #ad
---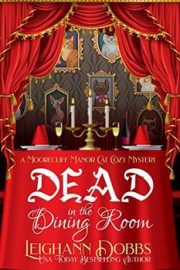 Dead In The Dining Room
by Leighann Dobbs
FREEBIE
Cozy Mystery
Rating: 4.4
When the patriarch of Moorecliff Manor drops dead at dinner, it's up to Aunt Araminta and her Siamese cats Arun and Sasha to uncover the identity of the killer. It will be no easy task, as there is no shortage of suspects… including the butler.
But Araminta soon finds herself with more questions than answers. What was the mysterious phone call about? Who has been removing heirlooms and why? How did they manage to get poison into Archie's dinner and not poison everyone at the table? Who was the mystery man that Daisy met in the garden? And why does Harold, the butler, never answer the door? #ad
Check out Leighann Dobbs's A Moorecliff Manor Cat Cozy Mystery series!
---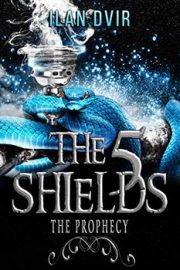 The Five Shields: The Prophecy
by Ilan Dvir
NO LONGER FREE
Fantasy
Rating: 4.5
After being guarded for centuries by the Order of Light, the map to the Grail of Fate falls into the hands of Darco, sovereign of all evil. He knows of the prophecy about the unborn Destined One – who is meant to put an end to Darco's reign – and he has to get his hands on the Grail of Fate in order to prevent that from happening.
On the day of the Five Shields' 14th birthday, they discover the World Beyond yet again, and are sent by Melvyn, leader of the Forces of Light, to train ahead of their most important mission yet – to reach the Grail of Fate and destroy it, before it's too late… #ad
Check out Ilan Dvir's The Five Shields series!
---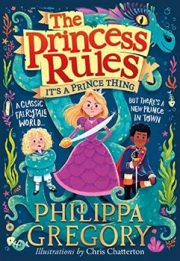 It's a Prince Thing
by Philippa Gregory
BARGAIN
Children's Fiction
Rating: 4.8
Once upon a time, there was a princess who broke all the rules, and dared to be different…
So when that same princess – Florizella – finds a baby boy delivered by stork to her parents' palace, she is shocked to discover that he will one day be king and inherit her kingdom! For every prince is given a permit which allow them to do whatever they like in the same way that every princess is given a set of rules that they have to live by… #ad
---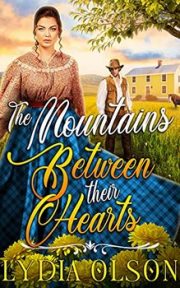 The Mountains Between their Hearts
by Lydia Olson
BARGAIN
Western Historical Romance
Rating: 4.7
She gets married to a stranger only to save her family. He gets married to the wrong woman only for his child to be safe. Can they heal their frozen hearts with their growing love?
Hattie is a young woman, ready to save her sisters at all costs. The Great Chicago fire forces her to take her life's hardest decision: become a mail-order bride in her sister's shoes. Hattie is taken aback by Mason's aloofness–he has lived so much away from others that he's too reserved. The connection she feels with his child though is profound and immediate. Will she be able to handle her new life and take care of the tough rancher and his baby? #ad
---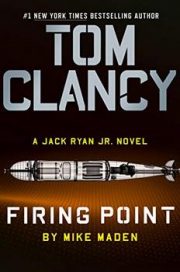 Tom Clancy Firing Point
by Mike Maden
BARGAIN
Mystery/Thriller
Rating: 4.5
While on vacation in Barcelona, Jack Ryan, Jr. is surprised to run into an old friend at a small café. A first, Renee Moore seems surprised to see Jack, but then she just seems irritated and distracted. After making plans to meet later, Jack leaves, only to miss the opportunity to ever speak to Renee again, as the café is destroyed minutes later by a suicide bomber.
A desperate Jack plunges back into the ruins to save his friend, but it's too late. As she dies in his arms, she utters one word, "Sammler." When the police show up they are initially suspicious of Jack until they are called off by a member of the Spanish Intelligence Service… #ad
---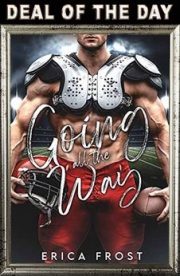 Going All The Way
by Erica Frost
BARGAIN
New Adult Romance
Rating: 4.0
My Town's Football Star Left With My Heart. And I Was Stuck Alone Pregnant With His Baby.
Caden Waltman was Mr. Perfect. Good looks, charming personality, and the body of a Greek God. He had it all. I've been in love with him since high school. Until he left town to pursue his football scholarship while I was pregnant. I never stopped to think about what it might be like to see him again, or how I would feel. But now I'm going to find out because he's back in town. Maybe I'll go crazy on him, or maybe my old feelings for him will come back. I don't know. I know one thing. My daughter should know her father. But I can't let him walk away from her like he did with me. #ad
---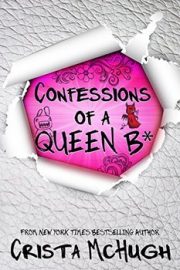 Confessions of a Queen B*
by Crista McHugh
FREEBIE
Young Adult
Rating: 4.3
After years of being the subject of ridicule, she revels in her ability to make the in-crowd cower via the exposés on her blog, The Eastline Spy. Now that she's carved out her place in the high school hierarchy, she uses her position to help the unpopular kids walking the hallways.
Saving a freshman from bullies? Check. Swapping insults with the head cheerleader? Check. Falling for the star quarterback? So not a part of her plan. #ad
---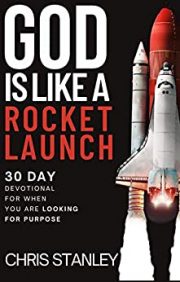 God is Like a Rocket Launch
by Chris Stanley
FREEBIE
Religious & Inspirational
Rating: 4.5
In this 30 day devotional discover how rocket launches reflect the creator of the universe.
From the amazing accomplishments of the Apollo program, to the revolutionary cutting edge technology of Space X, the author offers thoughts on how they point back to a designer. This is NOT a book of theology, but more of an encouragement to sit and wait on God. It is an exploration of thoughts about rockets and God. #ad
---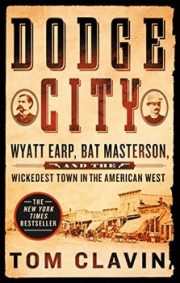 Dodge City
by Tom Clavin
BARGAIN
History
Rating: 4.6
Dodge City, Kansas, is a place of legend. The town that started as a small military site exploded with the coming of the railroad, cattle drives, eager miners, settlers, and various entrepreneurs passing through to populate the expanding West.
Before long, Dodge City's streets were lined with saloons and brothels and its populace was thick with gunmen, horse thieves, and desperadoes of every sort. By the 1870s, Dodge City was known as the most violent and turbulent town in the West. #ad
---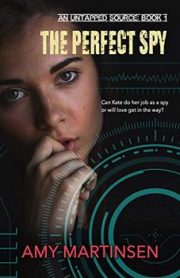 The Perfect Spy
by Amy Martinsen
BARGAIN
Romantic Suspense
Rating: 4.5
She's got the best undercover crew. But will a sinister secret undo them? Kate Ross has lost way too much in the last six months. With her mother's death from breast cancer, an agent she handled killed on the job, and her career in jeopardy, the beleaguered CIA officer's faith in God seems like another casualty. So she's relieved to be offered a shot at redemption by managing an innovative team of "mom spies"… until they saddle her with a more experienced man as a babysitter.
Battling self-doubt and a loss of confidence in her espionage skills, Kate directs a smoothly successful first mission for the unit. But just as she opens up to her kind and encouraging supervisor, she suspects he's withholding key information when the subject of their next assignment is his ex-wife… #ad
---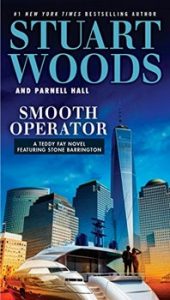 Smooth Operator
by Stuart Woods & Parnell Hall
BARGAIN
Action & Adventure
Rating: 4.5
From the #1 New York Times bestselling author of the Stone Barrington series comes the first novel in an extraordinary series starring an old fan favorite: Teddy Fay.
When President Kate Lee calls Stone Barrington to Washington on an urgent matter, it's soon clear that a potentially disastrous situation requires the kind of help more delicate than even he can provide…and he knows just the right man for the job.
Teddy Fay: ex-CIA, master of disguise, and a gentleman not known for abiding by legal niceties in the pursuit of his own brand of justice. #ad
---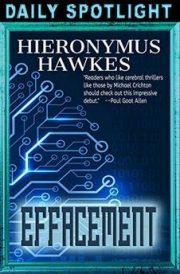 Effacement
by Hieronymus Hawkes
BARGAIN
Science Fiction
Rating: 4.5
900+ 4 & 5 STAR RATINGS ON GOODREADS!
Cole Westbay is running for his life from a cyberpunk-like surveillance state he helped build!
The development of the neurochip requires everyone to record every aspect of their life into a lifelog. You can't get insurance, open a bank account, or hold a job without one. Surveillance has become a way of life in the US and the government continues to crack down. Dr. Cole Westbay has been a driving force for BioNarratus, maker of the neurochip that revolutionized the world. When his company is accused of being behind a series of recent deaths, Cole investigates to clear their name. Instead, he ends up attacked, with no memory of recent events and his neurochip destroyed… #ad